Fascia
Enjoy added protection and a personal touch to your new drainage system with our custom metalwork to best reflect the style of your home or business.
Keeping water away from your fascia, siding, and foundation is the priority of every responsible homeowner. Not only does our custom fascia add a nice clean finishing touch to your roof, but it also helps separate your home from roof run-off.
Our metalwork comes in a variety of types and patterns to ensure your satisfaction with the product.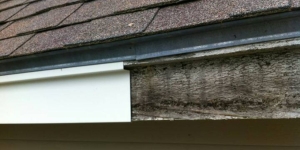 A customer's roof-line before fascia and after.